Welcome to Bama Hammer, the Alabama Crimson Tide news and opinions site brought to you by the FanSided Network. Bama Hammer is dedicated to providing top-notch Crimson Tide news, views, and original content. This site also serves as a community for like-minded fans to come together to catch up on the latest news and to discuss their passion.
Meet the Team
Hi, I'm Dakota. I'm currently attending the University of Alabama and pursuing a degree in Management with a minor in both Sales and Sports Media.
Provides an old-school background on Alabama football and basketball, with insight from a current perspective and statistical analysis.
Hello!My name is Lauri Springer, and I am a 25 year old graduate of The University of Alabama. I am currently working in Education, but I am thrilled to have the opportunity to pursue my dream of covering all things Crimson Tide with Bama Hammer. I was born and raised an Alabama fan, and I am a college football fanatic. From recruiting to spring practice to summer camp to Saturdays in the Fall to bowl season, Alabama football is my passion. I am so excited to be able to share my insights, thoughts, opinions, and current happenings with the Bama Hammer community. Roll Tide!
I am a lifelong fan of sports. Growing up we watched every Alabama football game that was on TV. If it wasn't on TV we tuned in to Eli Gold on the radio. I've played baseball, basketball, and football growing up and loved every single time I stepped on the field or on the court. Now I contribute here on Bama Hammer.
My name is CJ Dew, like Mountain Dew! I began writing several years ago and am very passionate about SEC Football, Miami Heat basketball, Miami Dolphins football, and Miami Heat basketball. Writing is something I have always enjoying doing, especially to see other peoples perspective on things.
Birmingham raised...Devoted Husband...Softball Dad... Alabama alum...Alabama fan...Active Duty Navy...Love movies, sports and TV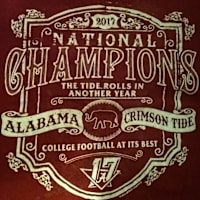 My name is Jeremy Grace and I'm a contributor for Fansided. I have a beautiful wife and two wonderful kids. I write for BamaHammer.com and am very passionate about a variety of sports. Covering Alabama Crimson Tide sports means alot to me and the opportunity is one I'm excited about. The journey of writing to get here has been a grind.
Thirtysomething trying to figure this mess out. College football, more specifically Crimson Tide football, and college recruiting are my passions. I have a Cinema Studies Master's Degree that's as useful as a rubber trowel, but I do love me some movies. I've found in my 30s that Jackson Browne's music moves my soul more than most. Don't really know what that's about, but there you go. More than anything, I'm very excited to be a Contributor for Bama Hammer and FanSided!
A graduate from BYU's school of communications, Nate is the E-Commerce Coordinator at Fansided. He likes colorful jerseys, mascots and pull-up fast break 3-pointers.
Write for Us
We aren't called FanSided for nothing. Our network of sports, entertainment and lifestyle sites are powered by fans that want to cover their passions! Whether you are just looking to get your start in online media or you want to contribute to your favorite site as a hobby, FanSided wants to hear from you.
Whatever your goal, FanSided can help your voice be heard. If you are interested in writing for any of our sites, please be sure to check out our openings page and submit a proposal.
About FanSided
The idea of FanSided was born in 2007, when two brothers felt that their favorite team, the Kansas City Chiefs, was being under-covered by the mainstream media. Taking matters into their own hands, they launched Arrowhead Addict, a move that would spawn the creation of FanSided in 2009, a network of over 300+ fan-powered unique sports, entertainment and lifestyle sites dedicated to team-specific, sport-specific, genre-specific, and fanbase-specific coverage.
From sports, movies and TV to lifestyle and tech, FanSided has you covered.
Advertise/Contact Us
Let's stay in touch. If you'd like to advertise with us, partner with us or have feedback, please fill out our contact form.
Email us: bamahammer@fansided.com
Write us: Sportority Inc., 462 7th Avenue, Floor 4, New York, NY 10018
Legal Disclaimer